Queen Orange – Eskadron Classic Sports spring/summer 2015 collection
|
For a few seasons now, the unquestioned king of many equestrian collections is the orange colour. We are prone to buy equestrian accessories (and other) in this colour. It is the colour that is perfect not only in the stable, but also in our houses. We often paint the interior walls with various shades of orange – from vivid to pastel. Why is it this way?
The orange colour combines tones of red and yellow. The name was given to it from the fruit – orange. This colour belongs to the warm tone, active and vivid. It is one of the happiest colours. It makes us feel better. The orange colour is a symbol of spontaneity, decisiveness and the optimistic way of approaching life. It is the colour of positive thoughts, it motivates to be active and increases self-esteem.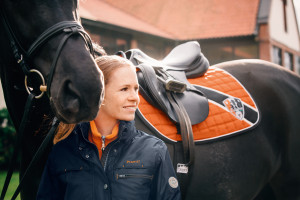 I think that is the exact reason why this colour is dominant in our equestrian crates. We can dare to say that it is a universal colour – I believe there isn't a single horse liniment that would look bad in an orange rug.  It fits bays, sables, grey horses and horse chestnuts. It can substitute for the lovable pink, especially when we have a gelding and we want to avoid the askance looks from our friends in the stable – "how can you dress a gelding in a pink rug?!". However, I would dress even a stallion in pink 😛 But we are not talking about pink!
In the newest  Eskadron Classic Sports spring/summer 2015 collection we will find not only rugs in a beautiful, vivid shade of orange, but also rugs with a contrasting graphite and accessories: headcollars, fleece bandages and flyhats.
We may choose the all-orange look – the saddle pad, bandages, flyhat, and rug and stun everybody in this set at the show jumping. .
We can also bring something else – rug in a dark colour just with an orange accent.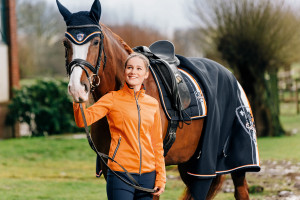 While searching the equestrian shopps we may find a lot of accessories to complete our orange stylization. The bandages may as well be replaced with orange boots, for example from the LamiCell collection, which will definitely be a better option if we jump over obstacles. Additionally, we can match a backsword of the same brand with a thin, non-slip grip. The whole look may be completed with a cult JinStirrup stirrups. If we want to get a little crazy, right before the competition, wash your horse with an orange-scented shampoo! We can also brush the crest and clean the hoofs orange 😛
For me, the colour orange is a colour of good memories. It brings the thought of a sunset, so also the nice memories of holiday spent on the horse's back.
I like when it accompanies me for the whole year, reminding me of the sun and happines, always giving me an energy boost during shorter days when we long for the sun. It is worth to think about it already and surround yourself with this sunny colour during cold autumn and winter days.