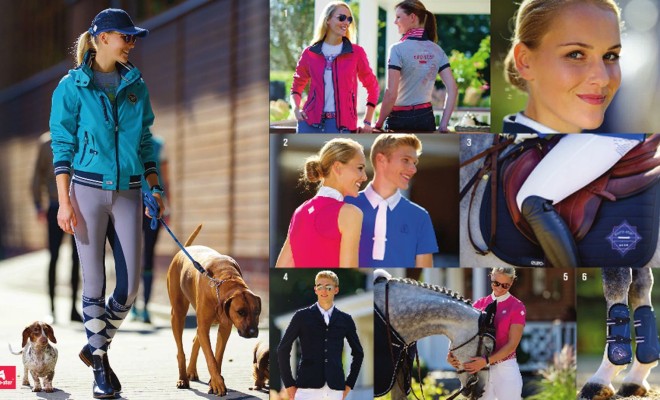 Spring-summer 2016 collections comparison
|
May will be here in few days and spring in full swing along with it. For that reason we decided to take a look at Spring/Summer 2016 collections from well-known equestrian brands and compare them. Also, we checked which trends have been promoted by both Polish and other designers and whether that is reflected in the equestrian trends. Enjoy 😉
PIKEUR Spring/Sumer2016
Collection BASICS & collection SEASON
In both collections from Pikeur besides black and white, typical equestrian colours are dominant: navy blue, grey, brown and beige. But we can also find stronger colours among them: green (Leaf Green, Mint Green), turquoise (Smaraged Green), carmine (Red Pepper), fluo pink (Magenta, Berry), and yellow (Rape Yellow).

Apart from the classics that Pikeur always sticks to (for example, quilted jackets and vests), in both these collections you can find products that follow world-wide trends for the spring-summer 2016 season.
DENIM LOOK
Jeans is a classic of many faces that appears each year both on catwalks and in our wardrobes. In reality, jeans breeches appeared relatively recently in the equestrian brands' offer, for example Pikeur's. However, that was a great success, as those breeches make sensation among riders of all ages.
BUTTERCUP EFFECT
Colour that is definitely associated with summer – buttercup pantone, or just sunny yellow. Pikeur prepared a whole range of products in this colour – from snapback caps, through T-shirts, hoodies to vests.
FLOWERS & ROMANTIC
It might seem that there is no place for delicacy and romanticism in horse riding. However, Pikeur breaks this stereotype, adding collection of scarfs to their collection – very gauzy and light, additionally with patterns that stick to the trend. Well done!
LILAC GREY
Lilac grey of a surprising purple tone is an interesting alternative for neutral colours that are needed in every collection, while remaining on the top of timeless classics list.
---
KINGSLAND Spring/Summer 2016
Collection DRESSAGE
One of the most titled riders in the dressage discipline – Charlotte Dujardin is the face of Kingsland for quite a while now. This time, she also took part in the whole designing process, co-designing dressage collection of clothes and accessories for both horses and riders.
Dressage collection is limited to classic black and white along with navy blue and sky blue. A strong accent is redness (Tango Red), which appears on some of the products – jackets, sweatshirts, sweaters and T-shirts. All this is kept in a form that is commonly regarded as classic elegance. Simple cuts and high quality of materials are only reaffirmations of this concept. All in all, what should a line of clothes for the real dressage rider be? 🙂
ROMANTIC & LACE
One of not many elements of Kingsland DRESSAGE collection that strays from the formulaic classic, are Ellen breeches. They are decorated with laced print that excellently merges with current trends, and at the same time makes them special.
Collection SUMMER 2016
The latest collection Kingsland Summer 2016 is a combination of standard colours: shades of blue Navy Blue, Monaco Blue, Cashmere Blue), including navy blue, red (Red Tango), black and white. Following trends, Kingsland also used shades of brown, grey and beige (creme, ash, Grey Porpoise), pink (Sachall Pink) and green (Green Aqua Splash).
BLUE BLUE BLUE
SUMMER OLYMPICS IN RIO 2016
Everybody relentlessly awaits this year's Summer Olympic Games that will take place is Rio de Janeiro. Who is not going to watch the sports rivalry, supporting their national representatives? Kingsland met our expectations by creating a line of products that will help us show our devotion. How? Each of these products have a patch attached with velcro, which you can change on any country's flag.
---
ESKADRON Spring/Summer 2016
Collection CLASSIC SPORTS
Despite being classic from assumption – Eskadron Classic Sport collection is very fresh and full of colours: navy blue and other shades of blue (Skyblue), pink (Freshberry), mint green, and mix of yellow and orange (Mango). Among the products, a new variation of checker that always has its place in Eskadron's collections.
RETRO CHIC
Resembling "granny's" blanket, this rug is in Eskadron's offer not by mistake. In their collections for the spring-summer 2016 season, the biggest fashion houses in Milan reached to their pasts (Dolce&Gabbana, Gucci, Prada, Fendi). Designers are more likely to look back, searching for inspiration in retro and vintage, and apparently that is reflected even in the sport fashion – equestrian.
ORANGE JUICE
Almost all shades of yellow and orange are in vogue this season. During New York's Fashion Week, orange was definitely dominant. In turn, in London and Milan, designers divided into fans of orange and yellow, often not being able to decide on one shade, introduced a few of them, mixing one with another. Eskadron definitely chose Mango, which appears as one of colouristic version of almost each product.
Collection NEXT GENERATION
Eskadron NEXT GENERATION collection is even more youthful than CS collection. You will find some blunt prints here – stars, clouds or variations with the peace sign; but also colours: Navy Blue, Pink, shades of brown and grey (Anthracite, Melange), but also bright blue (Ice Blue, Mint). Whole attention is focused mainly on products for horses, but riders will also find something for themselves there 🙂
FULL OF STARS
You do not have to search for starry inspirations too long – even Polish designer – Dawid Woliński, used it as a main motif of his Art Exhibition|spring summer 2016 collection. As you can see, the motif was well-received – celebrities started appearing in his creations.
INSPIRED BY WATER
Colours inspired by water element are always bright, clear and fresh colours. It found its place not only on the international catwalks with such shades as Ice blue or Mint, but also Eskadron used them in their collection.
---
EQUILINE Spring/Summer 2016
Collection PREMIUM, CONTEMPORARY & TECH TAILORED
Each of Equiline's mini-collections present the same concepts: elegance, classic cut, beautiful craft and high quality of material. Equiline sticks to neutral, almost "office-like" colours (navy blue, black, white, grey), adding slight colouristic accents (green, pink, red) that make these collections extraordinary.
ICED COFFEE
The colour of iced coffee with milk is an excellent choice for the upcoming hot days 🙂 This neutral colour of a soft, earthy shade will look fantastic with most colours, but also will perfectly reflect the sun rays, and that will provide comfort during summer. It is a wonderful alternative for white – contamination and stamps are less visible on it.
GREEN FLASH
GREEN FLASH. We associate vivid green with spring, fresh grass – exactly this colour was used in the latest Equiline collection as one of the strongest accents. Such green will perfectly match black, navy blue, or beige, so most "equestrian classics". You will surely look like a tasty breakfast of your four-hooved pet in this colour 🙂 What do you think about it? 🙂
---
EURO-STAR Spring/Summer 2016
EURO-STAR has never let us down. The latest collection is full of colours and youthful energy, with dominating blue (Dutch Blue, Navy Blue, Arctic Blue, Dazzlingblue, Aqua Blue), pink (Strawberry, Rose, Raspberry), and a little bit of grey (Grey Melange, Titanium). Here and there you can notice a strong accent of Lime.
NEW BLUE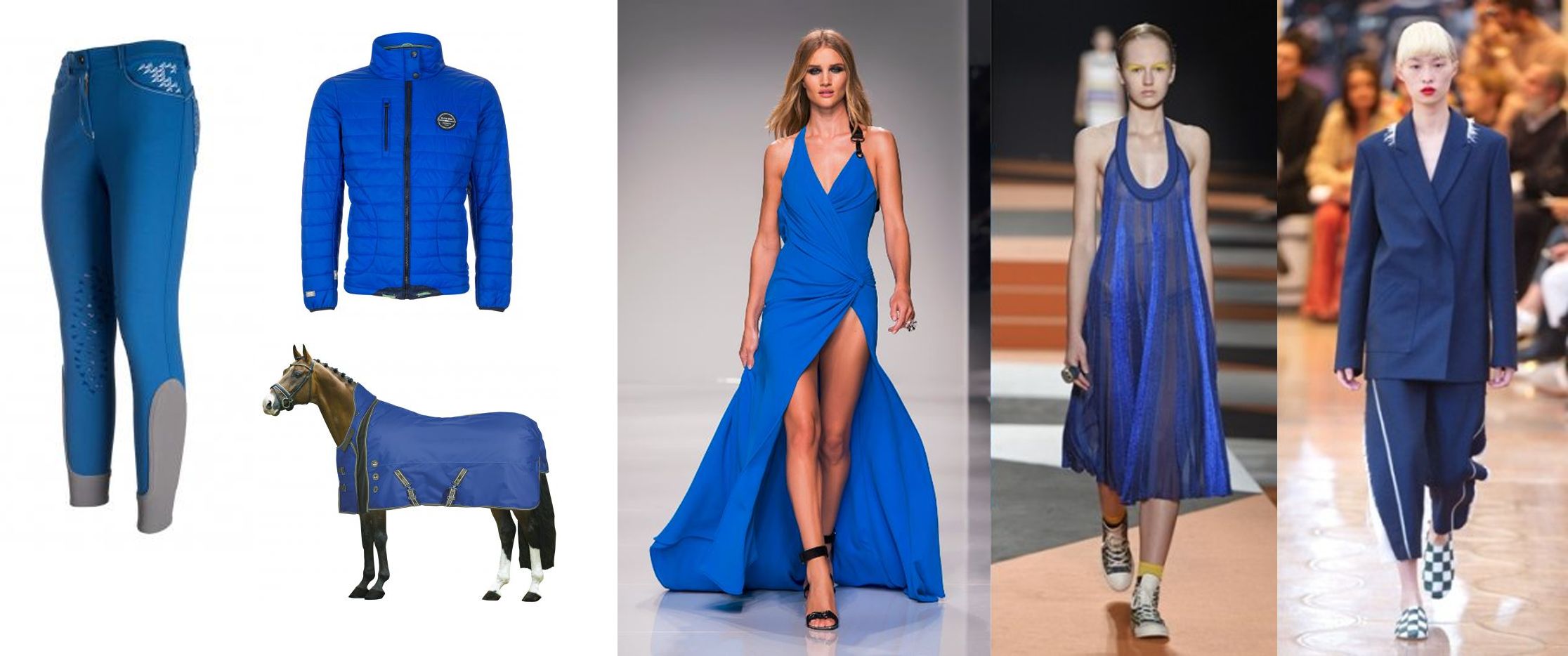 1. Ladies' breeches EURO-STAR Laura Powergrip / 2. Men's jacket EURO-STAR Aiden / 3. Rug EURO-STAR Move / 4. Versace / 5. Missoni / 6. Acne Studios, phot. East News
Both – the one closer to fluo blue, as well as the dark and matte, almost black. Most frequently it appears in elegant and classic version, but it looks just as good in sport climate, which was used by EURO-STAR in their latest collection by combining chosen shades of blue with grey.
YELLOW TIME
During Fashion Weeks in the world's fashion capital cities yellow was dominant – from shades of honey to slightly coloured white, each of the designers chose their own, the one that set the right character to their collections. EURO-STAR chose Lime – refreshing, juicy lemon that would look fantastic both on very dark colours (dark bay, bay, black) and the very bright ones (grey). Most definitely you will not leave the manage unnoticed 🙂
---
The Internet allows us for endless inspirations from every corner of the world, and that has an obvious reflection in the designs. As you can see, you can always find a reference between equestrian collection and those we get to see during the International Fashion Weeks – in Milan, New York, Paris, or London, and even those which come from the Polish "house". How would the autumn-winter 2016 collections from well-known equestrian brands look like? All we can do is wait and see 🙂