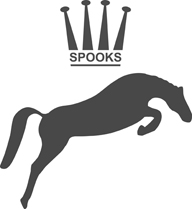 The incredible SPOOKS part 1
|
There are many brands that produce equestrian clothing. I highly value the SPOOKS brand. Chose by many professional equestrians. Their clothes are easy on the eye and provide comfort during a ride.
In this article, I'd like to show you the news proposed by SPOOKS.
Evi Jacket sweatshirt is equipped in the ZIP type of zipper and with functional zipped pockets on the front. This model is available in few colours: red, navy blue, green, and grey.

Heart T-Shirt is a cotton T-shirt with a SPOOKS EQUESTRIAN caption, available in white and navy blue. Perfect for trainings during hot days.
Light Vest Emilia is a downy vest with a high collar. It is definitely a hit! Multifunctional, light (which makes it very practical), and additionally avaiable in trendy and attractive colours. This vest is a must have, especially in this season of the year.
You can find more clothes on the official Internet site of SPOOKS or in the next article.