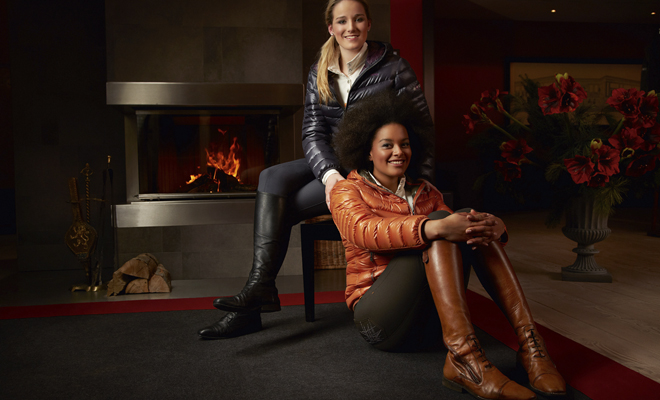 WINTER TRENDS 2013/2014
|
This winter will abound in variety-both the colours as well as the fabrics.
Clothes in classical colours, which are black, white and navy, we can find in all major Premium brands. Elegant black-and-white or navy-and-white makeovers, are still immortal and that's the fact-they form the essence of classical riding.
Widely understood tints of blue will come out in all most recent collections (from baby blue, through classic and cobalt blue, up to ink navy blue).
In Pikeur Ladies' Sportswear collection, we can get glossy metallic fleece jumpers, gilets and jackets, in deep 'Ocean Blue' but with the addition of grey. 'Horesy' equivalent of humans' fashion is always Eskadron. This time Classic Sport collection is rich in numnahs, bandages, rugs, fly veils etc. in the same colour.
Kingsland offers jumpers, unisex vests and many accessories, such as hats, gloves and socks in classic blue. Reversible woman duck down gilets are in azure blue with the company of pale pink.
nk navy has a special place in collection, and you can get it starting from knitted sweathers, polo necks, jumpers and breeches ending on feather waistcoats and jackets.
Similar ink navy inspirations can be found in other top brands, like Euro-star or Animo.
In Cavallo's collection we can see aquamarine blue combined with beige- we can find coats, vests, fleece hoodies, longsleeve shirts, jodphurs and hats in this arrangment.
Another stylish colours in this season are golden shades of brown, mustard, honey and orange. Influences with them we will find in Pikeur Premium, Pikeur Next Generation, Kingsland Dressage, Euro-star, Animo and Cavallo.
We can easily say, that the warm bronzes are probably the most popular this winter. It's not suprising- considering their versatility and wide range of combinations with other colors (for example with trendy this year, military green).
Good alternative to the browns are aubergines and shades of red wine (burgundy, purple and magenta). This winter polo necks, weistcoats, jackets, fleeces and breeches looks fab in one of them! To all the clothes you can easily match horse equipment from latest Eskadron Classic Sports or Next Generation collections.
As far as intensive colors are considered, definietly red, juicy green and yellow take a lead. Accessories in these colors perfectly breaks the winter monotony.
Last sector of colours for this winter shall be pastel pinks, delicate vanillas and beiges. We will wear them mainly as hats, scarves, but also thin fleeces and knitted shirts.