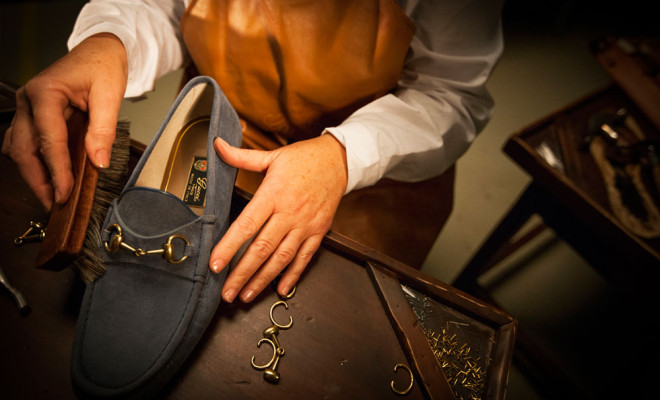 Gucci Loafers that became a legend
|
They appear on the market for over 60 years – we are speaking about Gucci loafers, leather masterpiece with an almond-shape toe box and a little metal bit – their most characteristic element. Today Gucci Loafers are the symbol of success, good taste and class. What makes the customers from all over the world sill pick this particular product? What makes them so desired and timeless? You will get to know this with us 🙂
After the First World War, young (future founder of the Italian brand) Guccio Gucci, worked in a London five-star Savoy hotel as the so-called liftboy, meaning a person who serves the lift. During his shifts he was observing the British aristocracy – their everyday conversations, habits, but also love towards things made of high-quality materials, with a huge care for details. His observations allowed him to understand how important equestrianism is in this world. Interests of upper classes focused on polo, races and horses. Horse riding was a synonym for class, good taste and belonging to the wealthy and influential social group.
Gucci decided to make use of his observations and after he returned to his hometown – Florence, he founded his own brand. In 1906 he opened a small family business that specialized in selling luggage bags and leather saddles. Next, he started producing equestrian leather bags. Very quickly he gained recognition and respect from his clients who appreciated quality of his products and his professional workmanship. Gucci introduced an equestrian iconography to his collections – motifs of bits, stirrups and reins.
In 1953, Gucci's son – Aldo opened the first shop in America, and the first loafers appeared in it – Gucci Loafers. The first models were inspired by the style of northern America. Those shoes were hand-made from the very beginning. In principle, they were supposed to be very soft and light and easily fitting to the foot's shape. Unfortunately, this last premise was not completed immediately – the first loafers were terribly stiff.
First loafers were produced only in black colour. It was of a simple cause: when loafers were very popular in Italy, in another European countries – not, they were regarded as casual and kitschy. However, these shoes, associated with lack of style, did not occur in black colour at all, only in shades of brown. Gucci decided to use it to his advantage and produce shoes in the classic black.
Also due to the decorative element in shape of the silver bit, Gucci's loafers became elegant enough to wear them with a suit. These shoes quickly became associated with the so-called
Jet Set
– namely, with a group of
privileged
and wealthy Europeans, who embarked on abroad journeys, as well as with wealthy citizens of Hollywood.
Practicality and comfort of these shoes were commonly acclaimed by the customers, since the American and Italian casual style met the English formal style, which was way more elegant and sophisticated. Gucci shoes became to embody ease and sport elegance. In Gucci Loafers promotion and grounding their position helped the U.S. president Kennedy, as well as Gianni Agnelli (Italian industrialist and main FIAT shareholder) and many more people of media who appeared in these shoes.
In 1969 Gucci sold 84 thousand pairs of his shoes in America. In the 70s, these shoes became a part of American Wall Street businessmen's uniform.
Today they are famous on each latitude – both in American Hollywood, European Florence or London, as well as in Asian Tokyo (where Tokyo businessmen value the loafers for how easy it is to put them on and take them off, because in the Japanese culture you ought to take off your shoes each time you pass the doorway). Currently everybody wears them – from the most demanding gentlemen, politicians, directors, to movie stars and celebrities.
Gucci Loafers are the only shoes which for more than 60 years has been present in each Gucci's collection. They appeared in many versions, initially they were designed only for men, then also for women. As the years passed by, they transformed – depending on the fashion, their appearance changes: the toe box which in the first model was almond-shaped, in other collections became square or very rounded. Their heel disappeared or became a high, thick Cuban heel (female version in the 70s).
But what has never changed is that each pair is hand-made, in a factory hidden somewhere around Florence.
Fan of Gucci's shoes and fashion critic – Stephen Bayley described his Gucci Loafers in the following way:
"They are beautifully made, superlatively comfortable and provide just a whiff of the ironic flash which I find very reassuring."
Since 1985 Gucci Loafers are a constant exhibition element in Metropolitan Museum of Art in New York.
In order to celebrate the shoes 60 years, which happened in 2013, the Gucci's main designer – Frida Giannini incorporated "1953" collections in which appeared loafers in bright colours, made from exotic animals skins. Additionally, they came back to the initial almond-shaped toe box. Frida Giannini also organised an exhibition, dedicated to Gucci Loafers in Gucci Museo in Italy.
During this exhibition, the main designer said about these shoes:
"Plays with the design each season, updating the shape, materials and details, but the shoe's essential beauty and functionality remain the same".
Gucci Loafers will always be one of the most important element of the wardrobe of everybody who tries to represent a high elegance level, at the same time emphasising his or her position. You can be sure that these shoes will remain "on top" for a long time, due to their timelessness – classic model, high quality of used materials and care for even slightest of elements. Unfortunately, for most of us they will remain an object of desire due to their price 😉
If you want to see the current Gucci Loafers offer, you can find it HERE.