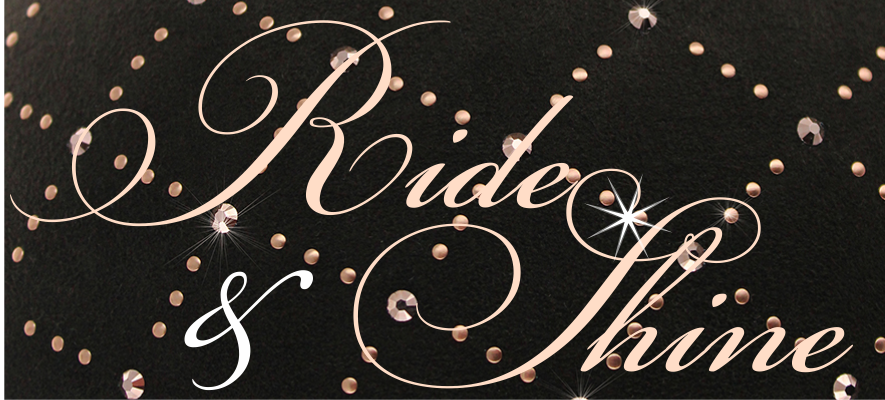 Ride & Shine
|
You can sine in a few different ways- with the intellect, sense of humor, skills or a gold tooth. Usually we want 'shine' to show what we have best or how good we are.
The point is to make our 'glittering' the intended result and do not let it distract from the most important things, and that is not always so obvious.
Any decent rider wants to be remembered, as a person with high level of riding skills, but not as 'the one with the orange numnah'. But unfortunately we quite often see, on dressage and jumping arenas, the opposite view. Sometimes the gloss from the riders is so strong, that only lack of wings and aureole reminds us that we are not dealing with supernatural person. The picture of the rider with a Christmas tree look, having illuminations straight from Carret Shiodome, effectively directs attention from the riding, and stays in our memory like as disliked disco song.
We must admit, that carefully selected, even shiny, details added to riding outfit always have positive influence on the overall impression of the rider. According to say, which I've heard on a dressage competition- 'even if I can't ride- I will look good'.
Equestrian jewelry, like crystals on hats, belts or buttons, worn moderately can highlight the elegance and craft of the rider. The 'eye-catchers' look best when the riding abilities are on a very high level- it's step away from becoming a perfect rider.
A few inspirations, which allow you to come closer to 'perfection' 🙂
1. The Samshield Premium Helmet with Svarowski Crystals – model with the possibility of full personalization.
2. Samshield gloves with Svarowski Crystals.
3.  Kingsland Lorrain brooch
4.Cavallo show jacket buttons with Svarowski Crystals:
5.  Galaxy Gala Sparkle belt – available in 7 various colors, matched to the  Brilliance Gala Browbands with Svarowski Crystals :
6. Harry's Horse Lacque belt with crystals

7. Spurs straps with Svarowski Crystals:
Ride & Shine !!!