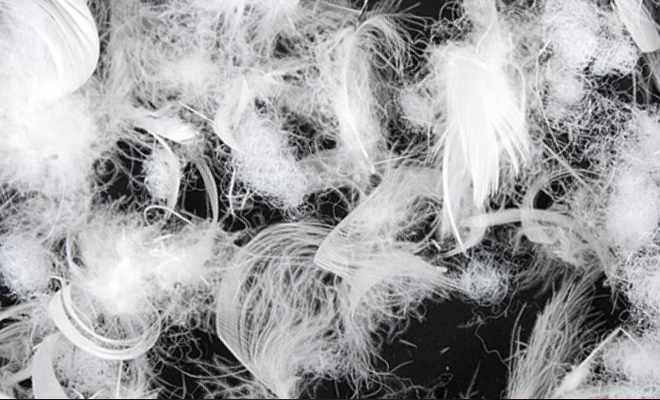 The feather down
|
My first association with the feather down reminds me of frosty winter morning, room in the old pre-war tenement house, the tiled stove, by which small window you can see open fire, and the huge feather down duvet on me… All of these things make me not want to go anywhere out, to that bitter cold. Fortunately, someone very bright came up with a brilliant idea of using the down in the jackets, as well as in the duvets. The age of the feather jackets had a short crisis associated with domination of wad lining. At one time everything was insulated with wadding, and the final products were spreading with the speed of light and quickly became a determinant of standard. However our harsh winters quickly verified this method of keeping thermal comfort, as a non effective at lower temperatures. We didn't have to wait long for feather and down filled jackets to come back. But this time they are the luxury products and they have their place on Premium shelves. And it's not surprising, if you think of the specification of synthetic products in comparison to natural down- they come off poorly.
The only competitor to the natural filling can be siliconised polyester fiber which, although have similar insulation parameters, is heavier, more prone to lumping, and finally not last for as long.
So now I can move into the topic – the use of natural down and it's equivalent in winter riding clothes.
In my opinion, the down gilets are the most multipurpose part of riding outfit. Their main function it to keep the body warm, but having no sleeves help to give excess of warmth back. That provides excellent thermal insulation and air circulation.
People say that first thought is always the best. Personally when I hear 'riding vests', I always put Kingsland on the top place.
Kingsland, compare to the other brands, has a big CHOICE of products. Every year, in every collection you can find a whole range of designs and shapes of gilets, and on top of that- they are UNISEX. Men always suffer with a very little variety of the riding clothes (if it only exist), but it this cases you can always count on Kingslad (for which I give this brand another big plus).
This brand will never disappoint you with the workmanship- Kingsland's clothes always was, and hopefully always will be very neatly made. They have the best quality materials and use them as much as they need to finish all the details, so you can't find protruding thread or jagged material by the zip. An advantage is also filling outwear with natural down.
In addition, the cut of these vest and the big variety of sizes let you fit them perfectly to yourself. They stick closely to your body and look excellent, make you want to say that they carry themselves or even ride themselves!
The dream about Kingsland's waistcoat can be dispelled when you look at their prices (which in some opinions is not equally with the type of product). I agree, that we can find cheaper riding gilets, but with attractive price we will get unattractive materials and not nice products. I can't tell anything about main look only because not everyone likes everything. But I can certainly say- if something doesn't keep my attention, I wouldn't even try it on. In Kingsland's store it's completely different. You go there and you don't know which vest to try on first… Amount of colours and patterns is so tempting and it's hard to find a favorite. Beside to classic cut of the gilets they are very useful and timeless. We can wear them with breeches and riding jacket, but also with skinny jeans and casual jackets. It's not ashame to wear it when you go skiing, skating or going shopping. I personally want have it all (but the total value of the small medieval villages is terrific). Being serious, Kingsland gilet or jacket is an investment for a years and everyone must have its own (like pair of socks).
'Pikeur ist Pikeur' says their own motto and you can't disagree with that, coz you can feel it from kilometers. It's another Premium brand with years of tradition and quality products, which can easily survive the atomic bomb. Unfortunately as for the design I think they've stopped in different century.
Pikeur gilets filled with the down are very neatly made a nicely tailored. But if you look at them on the hanger, you can't help feeling they look heavy and weight as much as a proper sheepskin coat. It might be caused by matching wrong materials and colours or choosing different age group than intended.
However selecting to match with them simple denim breeches, woolen sweaters in gentle colours and making the vest highlight in the outfit, can bring out its true beauty.
To finish the subject let's give a moment to Eurostar. I can give them big plus for simplicity in the designs, which are just nice to look at they're without the pomp. We wouldn't find so many models like in Kingsland, but this brand gives us big variety of colours. Eurostar same as Pikeur has long-standing traditions and make their clothes unbreakable. The women's waistcoats are perfectly shaped, to show what they suppose to, and give extra glamour to many outfits.
I only regret, that in Unisex sizes they have only one model so basically we have no choice. And the most important thing from the point of view of the topic, all Eurostar vests and jackets are filled with a synthetic down.
In summary, the success of any purchase is the feeling when you put it on and what to stay in it forever. That's why when you buy your perfect riding gilet, try to think not only about your look, but most of all about your comfort. Better mood is better look, so want it? Have it!