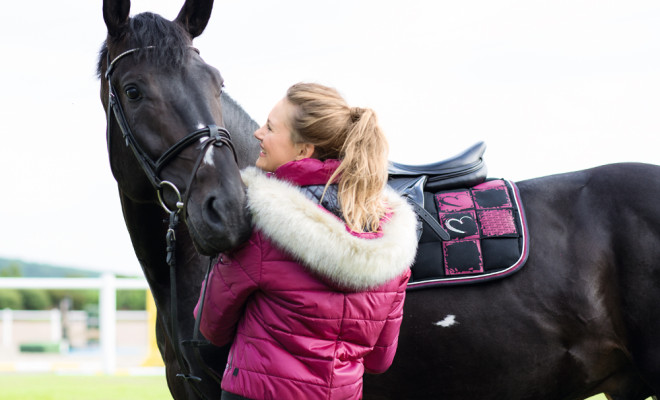 Prerelease look on NG 2015/16
|
Premiere of the latest autumn winter 2015-2015 ESKADRON Next Generation collection is approaching 🙂 This season, Eskadron proposes beautiful colouristic combination – tasty blueberry, royal azure and also dark grey and light grey. The whole collection is dressed with heart motives and tinting – ombre.
In this collection you will find classic saddle pads – Cottons and fleece wrappers in matching colour. Also, practical pads of Bigsquare models – with tinted element and dress shield with slight quilting and overprinted heart motives. Interesting Polopads with quilting in vertical stripes, wholly tinted! To all this, tilted fleece rugs and beautiful jerseys. Additionally, halters to the set 🙂
Personally, I am just a bit disappointed as we won't find a paddock rug in this collection… But we can equip our friend with a beautiful dralon or travelling boots.
Almost the whole collection is already available in some of the equestrian shops in a presale, so you can already make orders 🙂
Photos from the whole collection can be found below 🙂 I invite you to take a look and leave a comment. How do you like the new collection???