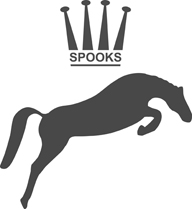 The incredible SPOOKS part 2
|
In this article I will show you more clothes of the Spooks company.
Very comfortable and stylish Vivia Knee Sequin breeches. Thanks to their elasticity, they fit to the body perfectly. The knee grip is made of synthetic microfiber which provides stability for legs in the saddle. The breeches have pockets on the sides and back as well as ornamental stitchings.
Going on a competition you should wear a show shirt under a show jacket. Kimi Sequin is the newest show shirt model from SPOOKS. It is very elegant and specially profiled. The material of which the show shirt is made allows the skin to breathe, and additionally it keeps our skin cool and is comfortable. The proper length allows to keep the shirt in breeches, which will prevent the show shirt from coming out.
Chalet Cresta vest is a new version of the classic Chalet Vest. It is a very comfortable, practical vest. It is perfect for trainings or everyday usage. The high collar replaces impractical scarfs which not everybody likes. It is available in three colours: amaranth, navy blue, and black.